Maple Syrup is an all natural product made from boiling the sap of the maple tree. It takes forty to fifty gallons of sap to make one gallon of maple syrup. Maple Syrup is fat free and cholesterol free. It is a high energy, low sodium treat containing calcium and potassium as well as iron, phosphorous and a trace of B vitamins.
Maple trees are tapped by drilling a hole in the tree in the Spring when there are warm days and freezing nights. A spout is placed in the hole to collect the sap into a bucket or into a tubing collecton system.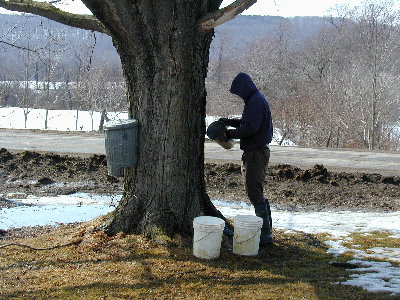 Buckets must be gathered by going to to each tree.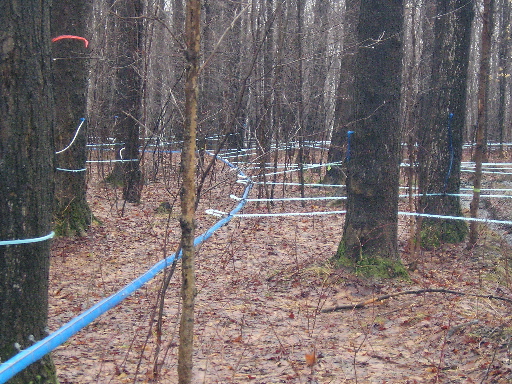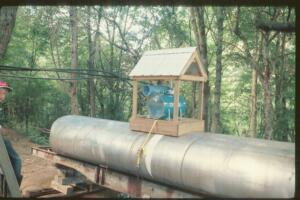 Tubing runs from tree to tree and then to a central collection tank.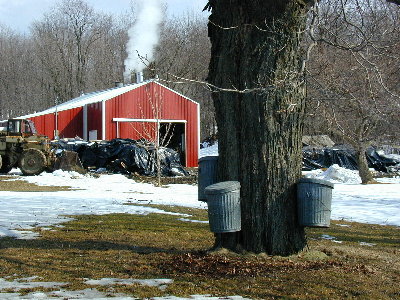 The sap is then brought to the sugarhouse to be boiled down into maple syrup."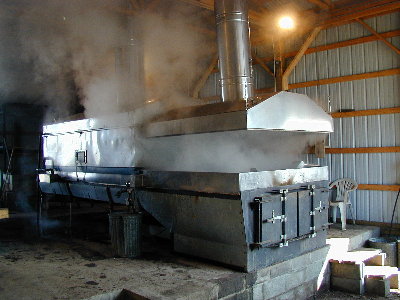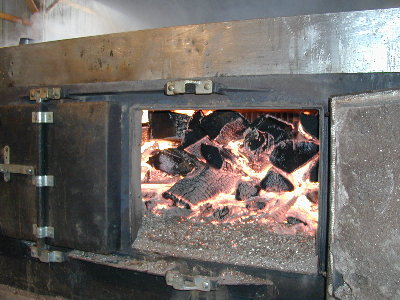 The sap is put into an evaporator to be boiled into syrup. Maple sap from the tree is 2% sugar and maple syrup is 66.5% sugar, a large amount of water must be removed from the sap to make syrup. We use wood from thinning our sugarbush to fuel the evaporator, other producer may use natural gas or fuel oil. We know the syrup is done when the temperature of the boiling maple syrup is 7 degrees above the boiling point of water. The thickness or density of the syrup when measured by a hydrometer to ensure the syrup has been boiled long enough. The syrup is then removed from the evaporator, filtered and bottled.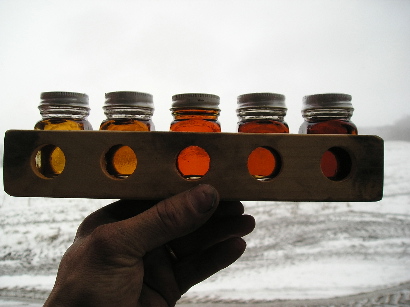 US Grade A Maple Syrup falls into Four classes established by the US Government.
Golden Color & Delicate Taste - is the lightest in color, has a mild maple flavor.
Amber Color & Rich Taste - is one grade darker in color with more maple flavor.
Dark Color & Robust Taste - is darker still and has a heavy maple flavor, sometimes with a slight caramel taste.
Very Dark Color & Strong Taste - is darker still and has a very heavy maple flavor, sometimes with a stronger caramel taste.
Other Pure Maple products include Maple Cream or spread and Maple Sugar.
Maple Syrup and Maple Cream can be used as a topping for:
Pancakes
French Toast
Waffles
Hot Cereal
Fresh Fruit
Ice Cream
Yogurt
Pudding
Maple Syrup can also be used in recipes... (you are limited only by your imagination)
Bread
Pumpkin Pie
Applesauce
Candied Yams
Glazed Carrots
Squash
Chicken
Ham
Baked Beans
Muffins